News
Garic and iLevel launch construction site servicing game changer
November 03, 2017  |   0 Comments  |
Garic, the specialist welfare and site set up products provider is working with iLevel to launch a construction industry first – i-SITE is a new remote equipment monitoring system that reduces the cost and environmental impact of site servicing.
Designed specifically for monitoring fluids such as fuel, waste and water, i-SITE has been tested by a range of companies nationwide over the past six months.
Sensors fitted to site equipment eliminate the need for contractors to try to estimate when a generator will run out of fuel, when fresh water supplies will be needed or the soil tank needs emptying.
Commenting on i-SITE which will be launched on 31st October Garic director Neil Richardson said: "There is a big shift currently taking place with regard to how servicing is procured and with this smart technology Garic will be leading the way.
"i-SITE is the first of its kind in the UK construction sector and this type of fully-inclusive monitoring software will completely transform the way equipment such as welfare units, fuel bowsers, lighting towers and drying rooms are serviced. Waste removal and fuel or water replenishment will be automatically scheduled for just when they're needed and this in itself will have a huge impact in helping clients to meet their sustainability targets."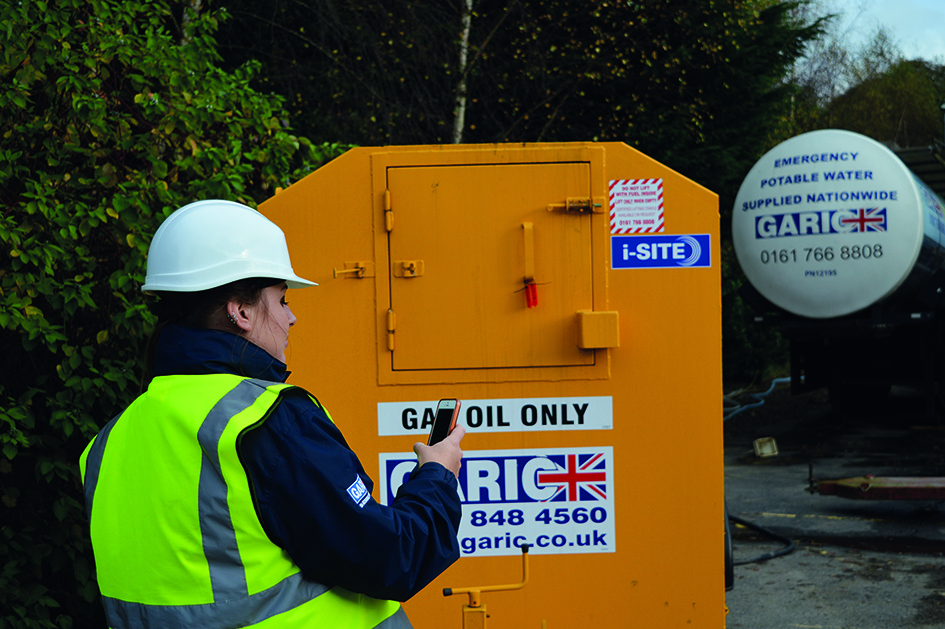 The system, which can be managed from any location via a mobile device app or secure web portal, could place the whole of the construction sector's site welfare equipment under close scrutiny as the system continually monitors efficiencies. It will be fitted as standard to all new relevant Garic products and as part of its ongoing refurbishment programme to existing products.
An additional benefit is the smart technology's ability to accurately pin-point the location of equipment. Co-ordinating the servicing of mobile units such as welfare cabins and tower lights can be difficult especially if they are being used on major projects, multiple site locations or on infrastructure schemes such as motorways. Having each individual mobile unit's GPS location also adds an element of security when staff are not present on remote locations ensuring the units whereabouts is known at all times.
Garic developed the innovative system in conjunction with Suffolk-based IT company i-LEVEL as part of its innovation strategy to improve the efficiency of on-site servicing and to minimise unnecessary stoppages. The sensors transmit real-time data via a mobile phone connection to Garic's computer servers which clients can view at any given time from any location.
i-LEVEL's managing director Søren Bradbury explains: "The primary aim of i-SITE is to ensure that the cost of servicing is directly in-line with customers' needs. We have been using a similar system for agricultural fluids and could see how effective it would be to other sectors. Garic was looking for something similar and so everything just clicked into place. This is going to make such a difference to the way contractors manage their sites and we are very excited to be the first to bring it to the UK construction market with Garic."
Latest News
Don't just take our word for it.....
Our iLevel system has been working very well for us. It has made my life so much easier regarding fuel order management! I'm so pleased we got it installed
- Alexis Brun
Farmer, Great Massingham, Norfolk
Since installing iLevel tank monitoring across my farm, the iLevel app keeps me informed on fuel and fertilizer levels and re-ordering has been simple. This is the first harvest we have not run out of fuel. ILevel is a simple, perfect solution for any progressive, forward thinking farmer.
- Edd Banks
Farmer, Thomas Banks & Partners, Cambridgeshire
With customers' machines increasing work rates all the time, i-level is an ideal tool for ensuring fertiliser tanks are kept full and the additional security monitoring is a real bonus
— Andy Eccles.
Agronomist, Omex
Ready to talk to someone about i-Level?
Enter your email below and we'll be in touch shortly.